Venezuelan talks on horizon (May 13, 2021)
Venezuelan President Nicolás Maduro has indicated he is ready to restart talks with opposition leader Juan Guaidó. He spoke on national television yesterday, and said he would agree to the meeting with the help of the European Union and the Norwegian government. (AFP)

His statements came after Guaidó offered to work with Maduro's administration toward a "National Salvation Agreement,"  and called for an electoral accord, using sanctions relief as an incentive for the government's participation, reports Bloomberg.
In a video on Twitter, Guaidó said it is necessary to seek "realistic and viable solutions" to Venezuela's social, economic and political crisis. (Associated Press)
The message appeared to signal a shift in tone from Guaidó, who has previously supported hardline policies against Maduro, reports the Miami Herald. He said that any agreement must include a road map toward "free and fair" elections supervised by the international community, open the nation to receiving international aid and COVID-19 vaccines, and provide protections for all political actors.

In recent weeks the Maduro government has made several bids to improve relations with the U.S., which has placed crippling sanctions on Venezuela. Gestures of goodwill include the naming of two opposition representatives to a new electoral council, last week, an agreement with the World Food Programme, statements that the government will work with the opposition to obtain Covid-19 vaccines through the COVAX mechanism, and the release to house arrest of six imprisoned Citgo executives. (See May 5's post.)
News Briefs
Colombia
Critics say violence over the past two weeks and mounting protest death toll indicate an urgent need for police reform in Colombia. The country's police force is one of few — if not the only — in the region that sits under the Ministry of Defense, alongside the military, reports the New York Times. (Violence against protesters, and calls for police reform, have been on the agenda in recent years, see, for example, post for Sept. 22, 2020)
This is the third wave of mass protest in Colombia since November 2019, and the current demonstrations are, in general terms, a continuity, in terms of actors, demands and methods, writes Juanita León in La Silla Vacía. But there have also been relevant changes, particularly unification against police violence, and an increased focus on immediate social needs -- food security, universal basic income -- over more broad demands like environmental regulations.
"Colombia can't afford to see the clashes on its streets escalate, and Washington needs to help the country find a way out of the turmoil," writes Adam Isacson in a New York Times guest essay. "Demands need to be channeled into real dialogue between the protesters and the government. Dialogue has to be the priority before there's more death, before the possibility of resolving differences peacefully is extinguished."
There are competing narratives about the protests, that will complicate dialogue moving forward, note experts. While activists are focused on human rights violations and social demands, the governing Centro Democrático party has focused on episodes of vandalism and has sought to leverage polarization ahead of elections next year, writes Isacson. 
"The challenge for [President Iván] Duque is that many in his party insist on a narrative that pushes the peaceful and violent protesters together and doesn't acknowledge the legitimate grievances of the majority of the protest movement," wrote James Bosworth earlier this week in the Latin America Risk Report. "That is an attitude that will lead to worsening protests."
The government's response to massive protests repeats old tropes of smearing the organizers as criminals. Labels like "urban terrorist" or "extreme vandals" aim to justify the excessive repression, according to La Liga Contra el Silencio. (Nacla)
Covid-19
Latin America has recorded 958,023 coronavirus-related fatalities, according to a Reuters tally, some 28% of the global death toll. But unlike wealthier regions, Latin American countries have lacked funds to blunt the pandemic's economic impact. People across the region are sliding deep into poverty; underfunded healthcare systems have strained and inoculation programs have stalled.
Taiwan condemned China for seeking to use vaccines for political gain after Taipei's diplomatic ally Honduras said it was considering opening an office in China in a bid to acquire much needed Covid-19 shots, reports Reuters.
Cuba started a mass vaccination campaign against COVID-19 yesterday in Havana, with the nationally developed Abadala, one of five Cuban vaccine candidates. Authorities aim to eventually vaccinate 1.7 million people. Late-phase trials for the Abdala, in more than 48,000 volunteers, have concluded but haven't been published yet. Nonetheless, authorities say the advantages of starting mass vaccination outweigh the risks. The move mirrors the early introduction of vaccines in Russia, China and India. (Reuters, New York Times)
Nicaragua
A key Nicaraguan opposition bloc, Citizens for Freedom, registered with election officials on its own yesterday, apparently torpedoing hopes for a grand alliance with the other main opposition grouping, the National Coalition. Nicaragua's opposition parties were thrown for a loop last week, when the country's Sandinista-dominated congress chose new members of the Supreme Electoral Council, who immediately set the electoral calendar to make yesterday the deadline to register political alliances, reports the Associated Press. Intense negotiations among opposition parties failed, but there is the possibility of a political agreement moving forward, according to some leaders. (Confidencial)
El Salvador
U.S. special envoy for Central America, Ricardo Zuñiga, told El Salvador's president, Nayib Bukele that Washington considers the recent removal of top judges and the attorney general to be unconstitutional. Zuñiga warned that a lack of judicial independence would affect the investment climate in the country and said he would discuss "next steps" with the White House, State Department and U.S. Congress on his return to Washington, reports Reuters. (See May 3's post.)
Regional Relations
The Dominican Republic has already built 23 kilometers of fence on its border with Haiti. The work has been carried out discreetly by the army, and started before President Luis Abinader's announcement of plans for a frontier-long barrier aimed at controling illegal immigration, cross-border trafficking, reports EFE. (See March 2's briefs.)

Mexico
Mexican President Andrés Manuel López Obrador welcomed a move by the United States against General Motors Co for alleged labor violations at a Mexican factory, saying the two governments had to work together to protect workers, reports Reuters. (See yesterday's briefs.)

Caribbean
CARICOM selected Belizian Carla Barnett to become the organization's next secretary general. She will be the first woman to hold the post. (Jamaica Gleaner)
Chile
Chileans flocked to withdraw money from their retirement funds this week, draining nearly $10 billion from the country's privatized pension system in a move some billed as a lifeline amid a fierce second wave of the coronavirus pandemic, reports Reuters.

Brazil

Only about 24% of Brazilians think the administration of President Jair Bolsonaro has been "good" or "great," his lowest popularity rating since taking office in 2019 and down from 30% in March, according to a new Datafolha poll. (Reuters)
Brazil's Bolsonaro administration is rushing to approve a long-delayed overhaul of Brazil's tax code before next year's election, in a bid to maintain its market-friendly angle alive, reports Bloomberg.
Analysis
If you're tired of actually reading the Briefing every morning, Bo Carleson and Lucy Hale have systematized the "types of Latin America analysis" -- I feel it pretty much sums up most of my daily content.
​

--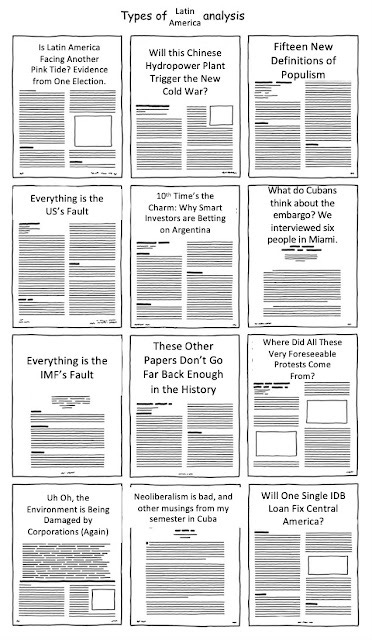 ​


--