Top Latin America Stories, May 21, 2015
Cuba and the U.S. continue negotiating
U.S. and Cuban representatives meet today for the fourth time since December's announcement of a diplomatic thaw between the two countries which suspended normal relations over fifty years ago.
The two countries are "closer than ever" to restoring full diplomatic relations, though the process  may have taken longer than initially expected, notes the New York Times.
But Cubans have approached the talks warily, according to the NY Times piece. U.S. President Barak Obama had reportedly wanted to open a Havana embassy before the historic Summit of the Americas last month, which included Cuba for the first time in decades. Officials from both sides agree that a milestone in the process will be the establishment of full embassies in their respective capitals and the exchange of ambassadors. It could happen as soon as this summer, according to the Los Angeles Times.
The LA Times goes over the status of some of the major sticking issues so far:
State sponsors of terrorism list: Cuba's inclusion on the State Department's list of sponsors of terrorism was considered an important obstacle to diplomacy by Cuba. Obama announced the removal from the list last month, and it will likely go into effect shortly. Castro has said that when it does ambassadors can be named.
Banking: Cuba's Interests Section in Washington has been forced to operate on a cash basis since 2013, as it cannot find a bank willing to deal with the blacklisted country. This hurdle was reportedly overcome this week. A small Florida bank, Stonegate, has agreed to take the account, according to the NY Times piece.
Embargo: Ending the long-standing embargo on Cuba is a key Havana demand. While the Obama administration has loosened restrictions on travel and trade, only Congress can fully end the loathed embargo.
Democracy Programs: The two countries have not come to an agreement regarding the U.S.'s "democracy programs." These include journalist training and the distribution of computer equipment.
Freedom of movement for diplomats: The U.S. is demanding that its diplomats be permitted to move freely around the island, instead of being restricted to Havana as they currently are. Cuban diplomats in the U.S. cannot travel beyond Washington and New York. "We have to have an embassy where diplomats can travel and see the country and talk to people," said Assistant Secretary of State Roberta S. Jacobson, who is leading the talks for the U.S. at a Senate hearing yesterday. But the embassy will probably operate with certain restrictions. Although in some embassies around the world, such as China and Vietnam, diplomats are required to inform their host country several days in advance of travel, reports Reuters.

Off the table completely are the U.S. Guantanamo Bay naval base and military prison, extradition of American fugitives to the island, and a demand that Cuba pay billions of dollars in claims over seized property, reports the LA Times piece.In the meantime, Cuban exile groups in Miami are denouncing increased repression on the island, saying that Cuban authorities feel they have impunity as negotiations with the U.S. continue. The organizations received reports of a 100 arrests of dissidents just this weekend, reports AFP.

News Briefs
Guatemala's central bank chief, Julio Suárez, was arrested yesterday along with the entire board of the country's social security institute, which he also sat on. An arrest warrant was also issued for Social Security Institute President and former presidential aide Juan de Dios Rodriguez for fraud yesterday, reports TeleSur. The attorney-general's office reported 15 arrests on corruption charges, in coordination with the U.N.  International Commission against Impunity in Guatemala (CICIG). The arrests concern allegations over a $15 million contract awarded to a pharmaceutical company for dialysis services provided to the Social Security Institute. The detained allegedly took kickbacks worth 16 percent of the contract, reports the Financial Times. President Otto Pérez Molina is under considerable pressure, as his administration is rocked with waves of corruption scandals. His Vice President Roxana Baldetti was forced to resign earlier this month in relation to a separate corruption scandal, La Línea, also uncovered with the cooperation of the CICIG. Ongoing protests demand his resignation. Yesterday thousands of rural indigenous people and rural workers marched in the capital, also demanding the head of the new VP. Over the weekend 60,000 protestors came out under the slogan Renuncie Ya, reports TeleSur. Another nationwide protest is slated for May 30, according to FT.
Haiti's former prime minister Laurent Lamothe made waves yesterday registering his candidacy for the upcoming presidencial elections. As a former government official -- he also headed the ministries of planning and foreign affairs -- he is required to obtain a certificate from Parliament showing he did not misuse government funds. However, Haiti has not had a functioning parliament since January, meaning the "décharges" cannot legally be issued. TheMiami Heraldreports that an exception in this case could endanger what is already a fragile political process, and provoke a boycott of the elections from other candidates. The APhowever notes that Lamothe's lawyer says the "dysfunctionality of Parliament" cannot be held against him. President Michel Martelly is ruling by decree in the absence of a legislature. He replaced Lamothe after Parliament dissolved in early January amid a political stalemate. Martelly's replacement will be selected in October's elections. Martelly was supposed to call elections in 2011 for a majority of Senate seats, the entire Chamber of Deputies and local offices. Those elections are now scheduled for August.
The Los Angeles Times sheds more light on the events that led to at least 16 civilian disappearances in Chilapas, in Mexico's Guerrero state. (See yesterday's post.) According to the piece over 300 armed civilians, part of the criminal gang Los Ardillos, held the town in a state of siege for five days, as they faced off with their rivals, Los Rojos, the local gang that usually controls Chilapa. Mexican army, gendarmerie, state and municipal forces were present but did not intervene, according to witness accounts cited in the piece. The Chilapa gunfight ended when state authorities promised the occupying gang that Los Rojos' leader would be arrested. Los Ardillos have threatened to return this week if the arrest doesn't happen. Animal Político reports that of the 16 disappearances that are being investigated by the federal police, 10 occurred related to this event, while the others are previous to the shootout.
Violence in Mexico has filtered down to children's play. Experts are concerned after the death of a 6-year-old boy this weekend, allegedly at the hands of five children playing a game of "kidnap." He was captured outside of his house and bound by his hands and feet, strangled to the point of unconsciousness, stoned and knifed in the back, reports the Wall Street Journal. Chihuahua state, where the event occurred, spent most of the past decade as Mexico's murder capital. Since 2008, the state has registered more than 17,000 homicides. Experts say the case illustrates the normalization of extreme violence. Bullying has also risen drastically in Mexico:In 2013, around 40% of school students said to have been victim of bullying, compared to 30% in 2011. 
A knife assault bike theft that resulted in the victim's death is drawing attention to violent crime in Rio de Janeiro, according to a piece in the Wall Street Journal. The attack, which follows as many as four nonfatal stabbings in the same area, has led to a public outcry and the head of district police chief. Rio has seen a rebound in violent crime in recent years. Though the economic downturn has impacted the situation, experts also point to criminal impunity. Ignacio Cano, a researcher at the State University of Rio de Janeiro says only 8% of homicides resulting in prison sentences.
Nicaragua denied entry to French cartoonist Julien Berjeaut, who had been scheduled to participate on a panel called "Humor against barbarity, homage to Charlie Hebdo and freedom of expression," reports the AP. It is not clear why Nicaragua refused entry.
Faith-based addiction programs in Puerto Rico operate without licenses and violate patient's rights, according to a study by Débora Upegui-Hernández and Rafael Torruella. Patients are humiliated as part of their treatment, forced to quit cold turkey and obliged to sell items on street corners for no pay and wearing fluorescent t-shirts that identify them as rehab patients, says the report which was financed by the Open Society Foundations. The Centro de Periodismo Investigativo covers the report in depth.
Colombia added Foreign Minister María Ángela Holguín and well-known businessman Gonzalo Restrepo to the team negotiating peace terms with the FARC in Havana. The move is intended to accelerate talks, which have been ongoing since 2012 and are politically costly for President Juan Manuel Santos, reports Reuters. "The patience of Colombians is not infinite," he said yesterday. "Time has become an enemy of trust in the process."
 The Colombian and Venezuelan governments are both taking credit for downing a drug trafficking plane with more than a ton of cocaine, yesterday. While the Colombian air force was pursuing the plane when it crashed into the Caribbean, Venezuelan authorities say they made the initial shots that hit the aircraft, alerting Colombian authorities when the plane crossed the border, reports the AP.
Several thousand Uruguayans participated in a silent march demanding justice for the approximately 200 people who were "disappeared" during the country's civil-military dictatorship in 1973-1985. "Some families have been searching for 40 years, Uruguay has had democracy for 30 years, we've had 20 silent marches and there's been a Frente Amplio government for ten years," said a member of the organizing group Familiares de Detenidos Desaparecidos. "Yet the big absentees continue to be truth and justice. That is why we march again today."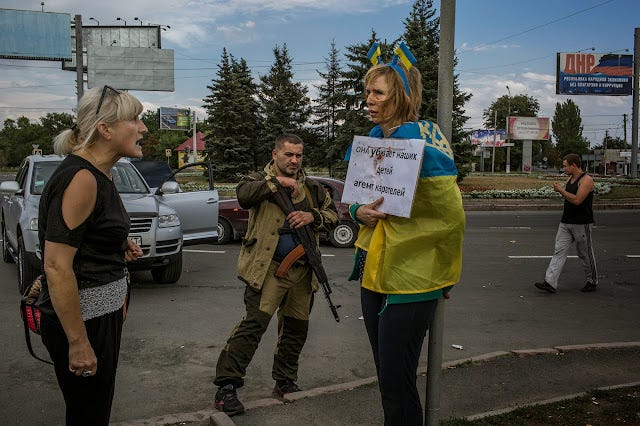 Irina Dovgan, a pro-Ukrainian activist who was accused by separatists of assisting the Ukrainian Army as an artillery spotter, held a sign that read "She kills our children" as she was harassed by a passer-by on the outskirts of Donetsk. Aug. 25, 2014. - Mauricio Lima for The New York Times.