Top Latin America Stories, Feb. 26, 2015
BRAVE NEW WORLD STILL DEBATING ECONOMIC DEVELOPMENT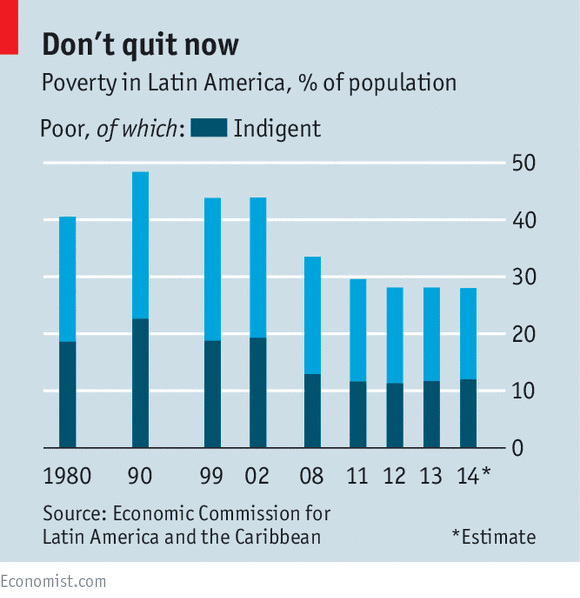 New ECLAC statistical data showing that the number of poor in Latin America has risen "for the first time in a decade" and, according to ECLAC's Executive Secretary "the current rates of economic growth in Latin America are insufficient to beat poverty and guarantee equal rights." These and other data have evoked a myriad of solutions with no consensus.  
Jessica Faieta, the UNDP Director for Latin America and the Caribbean, is on the "economic growth is not enough" side where "more economic growth is not enough to build 'resilience'," in her essay in Inter Press Service (2/23). Governments should realize that "exclusion, discrimination and historical inequalities that are not explained by income alone." Outgoing Uruguayan President Mujica's wide-ranging exit interview last Sunday with the Mexican daily La Jornada (2/22) suggested that capitalism "seems to have already given everything it had," and that it is likely to be replaced by "democratic socialism."  Mujica sounds fairly orthodox in his Marxism interpretations but may raise some eyebrows when he says, "the great distributor of wealth is the salary" and that "life is the primary value and society takes second place."
Andres Oppenheimer's Miami Herald column (2/25) also refers to the ECLAC data but takes a different tack suggesting that Latin America just needs more R&D: "A fundamental problem is that Latin America invests only 0.8% of their GDP in R&D of new products, compared with the world average of 2.1%." He compares Latin economics to the new economy including Apple's ("just one capitalist company" whose market value of $710 billion is larger than any Latin American country save for Brazil) as well as Uber and WhatsApp, companies that have yet to show profits. 

Hernando de Soto pegs his critique of "developing world statistics" on a critique of Thomas Piketty's Capital in the 21st Century, in an oped in the Huffington Post (2/25).  De Soto pits "third worlders" (himself) against "westerners" (Piketty), and declares the latter's conclusions "irrelevant" because "worldwide labor statistics are Eurocentric and do not have a category that relates the poor to their entrepreneurial activities, nor to their aspiration to be part of the global market. According to the Peruvian economist, the Arab Spring were not revolts of the poor against capital, but of the poor for capital and that the common denominator of those self-immolators who sparked the Arab Spring was that they were entrepreneurs. (For more, see de Soto's 'Unlikely Heroes' video.)


President Obama says that Peru's economic growth and poverty reduction "is the envy of the world" according to headlines in most of Peru's dailies (see El Comercio, La Republica, government news agency Andina, etc) as Lima's new Ambassador in Washington (and former Min of Economy in Peru) presented his credentials and met with the USA President. (The quote was not found in any State Department or White House press release.)

None of these news reports cite corruption as an issue though it is a highlight in the demise of Brazil's state-owned but capitalist-oriented Petrobras, according to the Financial Times (2/25). In a recent speech, former president Lula came out swinging in defense of Petrobras and its' 86,000 employees saying that it "represents democracy," according to the Folha do Sao Paulo (2/24) and O Estadao (2/24). Lula says that Petrobras' failure came from a coterie of 50 people and opposition media.
NEWS BRIEFS