Nicaraguan protesters repressed again (May 29, 2018)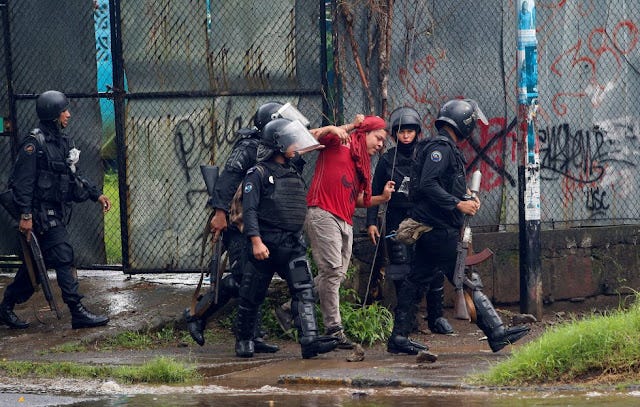 Nicaraguan police detain protester in confrontations yesterday
OSWALDO RIVAS/REUTERS
Two people were killed yesterday in Nicaragua, and about 40 wounded, in the midst of confrontations between security forces, armed government supporters and anti-government protesters, reports El Confidencial. It was the bloodiest day since April, when protests led to at least 77 deaths over the course of a week, reports El País. The government ordered a crackdown after students took over the National Engineering University (UNI), up until now controlled by pro-government forces.
The Ortega administration said it would be willing to return to negotiations with the opposition Alianza Cívica. The talks, mediated by the Episcopal Conference, were suspended last week due to lack of progress. (See last Thursday's briefs.)
Yesterday the Alianza Cívica called for a massive peaceful protest, saying the government has not met the minimal demands for dialogue: stopping violent repression of protests and dismantling armed youth groups, reports El Confidencial.
The "thuggish" response by the government has eroded its traditional pillars of support in the Catholic Church and the business community, reports Reuters. On Sunday the leading private sector association called on businesses to join protests for justice.
EFE denounced that its team was harassed by police while covering repression of protesters who were shot at with rubber bullets.
At Slate, Cintia Membreño gives a first person account of how the Ortega administration has alienated youths.
Repression briefs
News Briefs
Brazil
Mexico
Paraguay
Guatemala
Peru
Bolvia
El Mozote
Argentina
Honduras
War on Drugs
Did I miss something, get something wrong, or do you have a different take?  Let me know ... Latin America Daily Briefing