Latin America's political pendulum (July 7, 2016)
A Los Angeles Times piece analyzes Latin America's political shifts over recent decades showing "a political pendulum that has swung back and forth in response to economic or social crises."
The beginning of the 1980s were marked by right-wing military regimes, followed by a leftward swing as citizens rebelled against authoritarian governments. The early 1990's brought a right-ward swing and the rise of Washington-favored free-market economic reforms. The failures of those policies ushered in the next series of lefty presidents in the region, observes Chris Kraul, peaking in 2008 when the left held 8 of 10 presidencies analyzed. 
Since then a full-on rightward swing appears to be occurring, he argues.
The graphics are interesting (check out the original story for better quality):
The Times looked at the 10 most populous countries in South and Central America and classified their leaders over the years as left, right or center. The tallies are plotted below, showing how the region as a whole has shifted politically.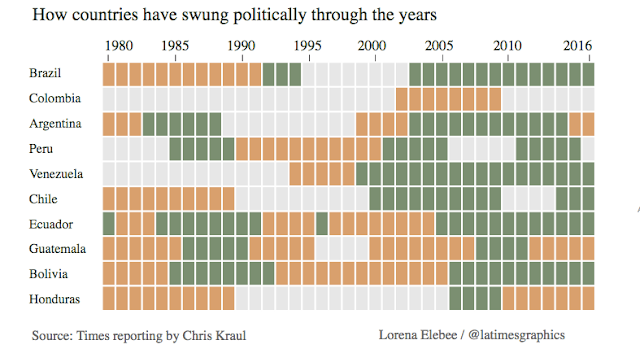 ​
News Briefs: