Guatemalan forces forcibly break up migrant caravan (Jan. 19, 2021)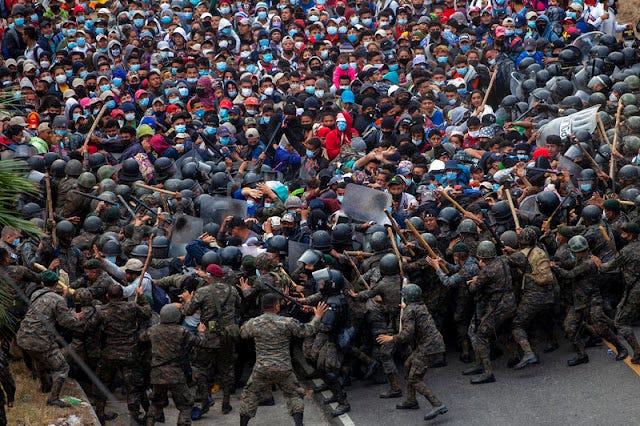 Honduran migrants clash with Guatemalan soldiers in Vado Hondo, Guatemala, on Sunday.
(Sandra Sebastian/AP)

Guatemalan police and soldiers broke up a group of hundreds of migrants who were traveling north from Honduras in a caravan formation. Security forces closed in on the migrants just beyond the village of Vado Hondo, some 55 km from the borders of Honduras and El Salvador. Some migrants threw rocks while authorities launched tear gas and pushed the migrants with their riot shields back down the highway. Migrants with children were more gently prodded back the way they had come, reports the Associated Press. 

The removal of the large group was the latest effort by Guatemalan authorities to break up the year's first migrant caravan, which departed from San Pedro Sula early Friday morning, reports Reuters. In total, some 8,000 to 9,000 Honduran migrants were believed to have entered Guatemala, but their push appears to have been largely deterred by Guatemalan forces. (See yesterday's post.)
Pedro Brolo Vila, Guatemala's foreign affairs secretary, criticized Honduras' government for not doing more to dissuade the caravan, and said Guatemala was "totally surprised" by Honduras' lack of cooperation, reports the Associated Press. Mexican authorities praised the Guatemalan government's forceful response to the migrants. Mexico beefed up security on its own southern border with Guatemala in anticipation of the caravan, reports NPR.
News Briefs
Regional Relations
Mexico
Vaccines
Brazil
Venezuela
El Salvador
Cuba
British Virgin Islands
Regional
Migration
Borders
Did I miss something, get something wrong, or do you have a different take? Let me know ... Latin America Daily Briefing