¡Gracias Diego! (Nov. 26, 2020)
 ​
Soccer legend Diego Maradona died yesterday and the world paused for a second. In Argentina outpourings of grief and appreciation for Maradona filled streets and social media. The government declared three days of mourning, and fans are lined up in Buenos Aires' Plaza de Mayo to pay final respects to Maradona whose casket is in the Casa Rosada. The line currently stretches over seven blocks, and more than a million people are expected -- a challenge for social distancing measures that remain in place due to the coronavirus. (Infobae) The wake is reminiscent of former president Nestor Kirchner's funeral in 2010, he was laid in state in the same Sala de los Patriotas Argentinos in the Casa Rosada, as well as those of Juan Perón in 1974 y and Eva Perón in 1953.
The outpouring of grief was not limited to Argentina however. The Guardian has photographs of homages from around the world, and Infobae of Argentine fans saying goodbye.
Maradona is revered for is soccer skills, but also for his larger than life personality off the pitch. For Argentines and others abroad, he has come to symbolize "Argentineness" itself, as any Argentine who has ever taken a taxi in another country can attest to. "Diego Maradona was a passport ... that opened worlds, a noun that never needed translation, a country's definitive surname," writes Alejandro Wall in the Post Opinión. "His story is the story of inequality in Argentina and Latin America."
He was an iconic figure whose excesses rivaled his talents. "No other player has ever inspired such fierce devotion," writes Rory Smith in the New York Times. "He was, in Argentina and beyond, simply "D10S," a mixture of the number he wore and the word for God in Spanish," notes the Washington Post.
Marcela Mora y Araujo's obituary in the Guardian is eloquent: "Diego Maradona was one of the most intelligent and astute beings to have graced the game. He was a perfect embodiment of the human ability to be contradictory, to do and convey ugly and beautiful at once, good and evil in the same stroke. His celebrity was not separate from his private self – he was achingly human in every way, yet a superstar at all times."
Many of his pithy frases have entered the quotidian Argentine lexicon. (BBC)
A lot of articles: Wall Street Journal, Washington Post, pretty much the entirety of Argentine media.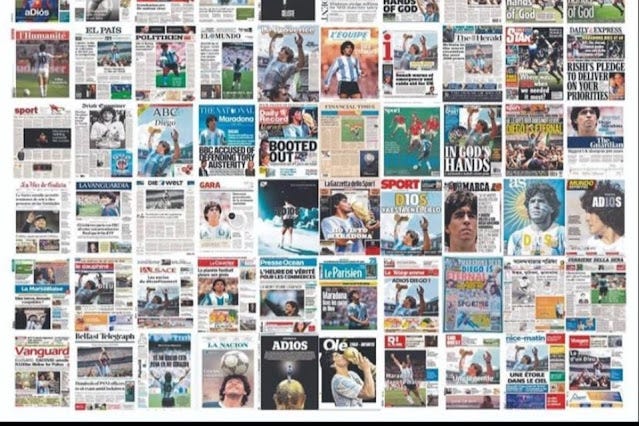 News Briefs
Peru
Mexico
Migration
Central America
Regional Relations
Brazil
Chile
Regional
¡Happy Thanksgiving!