Duque and Petro to face-off in Colombia (May 28, 2018)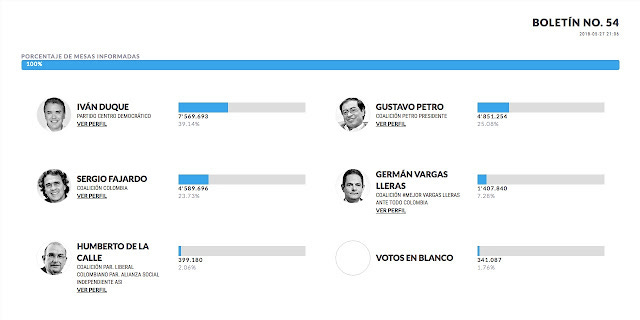 ​
Colombian voters divided their backing between the right and left wing candidates yesterday -- setting the stage for a polarized second round of presidential voting next month. Conservative senator Iván Duque came in first, with just over 39 percent of the vote. He did not however obtain enough votes to win outright, and will face off on June 17 against former Bogotá mayor Gustavo Petro, who obtained 25 percent of the vote yesterday. Centrist Sergio Fajardo came in close behind, with 23 percent. He far outperformed polls, which had him at a distant 15 percent. (See last Thursday's post.) 
La Silla Vacía has the complete results for each candidate and broken down geographically. El Tiempo notes the record participation levels, surpassing 50 percent.
Duque and Petro beat out more centrist options, making the run-off a polarized competition between a candidate closely associated to former president Álvaro Uribe -- with a questionable human rights track record, and champion of the country's "war on drugs" -- and a former guerrilla.
Though Duque is expected to win handily, it's a face-off that would have been impossible before the signing of the 2016 peace accord with the FARC, say many observers. The guerrilla demobilization seems to have created an opening for the political left that was non-existent till now, notes Michael Shifter in the New York Times.
It's a historic run-off in a country where the left hasn't had a real shot at the presidency since Jorge Eliécer Gaitán was assassinated in 1948, reports the Washington Post.
The two will now be competing for the centrist vote, particularly Fajardo's electorate, while angling to not alienate their own bases, according to the Wall Street Journal. Duque will likely exploit the specter of Chavismo in order to scare voters towards him, while Petro's supporters will aim to portray Duque as an Uribe puppet. Both candidates made nods to Fajardo's campaign in their speeches yesterday. Petro, for example, focused on education, notes la Silla Vacía.
Though Duque is Uribe's protege, his support yesterday outstripped the former president's results in legislative voting earlier this year, and his own results in an open primary -- a successful result of building a broader coalition outside of traditional Uribismo, according to la Silla Vacía.
A separate Silla Vacía article focuses on Petro's campaign, and unprecedented success as a voice of leftist causes and disenchantment with traditional political elites. He has channeled the anti-establishment fervor noted in other elections in the region, wrote Cynthia Arnson and Jamie Shenk in an Americas Quarterly piece from before the election.
Though the leading candidates had divergent views on the divisive peace deal with the FARC, the presidential campaign didn't focus much on the peace deal itself, which was somewhat of a surprise for some observers. Most voters were more concerned with corruption, unemployment, health care and education, according to opinion polls. A March survey found that only 3 percent of Colombians considered implementation of the peace accord a top priority.
Nonetheless, the legacy of the deal -- and the security challenges that have arisen in the wake of the FARC demobilization -- will be a key challenge for the next president, notes the AQ piece. 
A final presidential debate on Friday did focus on the accord, however. Duque said it had "bamboozled the Colombians," while Petro countered: "The peace is not a problem of negotiation with the guerrillas, but an agreement with society to live without violence," reports the Guardian.
Duque has promised not to "tear up" the accord, but to water it down. He will seek changes to ensure that drug trafficking is not an amnestied crime and that guerrilla leaders who haven't made reparations to victims are barred from political office, reports the Associated Press.
Newly declassified U.S. State Department cables accuse Uribe of ties to drug traffickers, reported the New York Times this weekend.
News Briefs
Venezuela
Brazil