Covid-19 in LatAm and Caribbean (Sept. 30, 2021)
 The Pan American Health Organization has struck a deal with the Chinese manufacturer Sinovac to buy millions of Covid-19 vaccines for countries in Latin America and the Caribbean, reports the New York Times. It is part of an effort by the organization to directly purchase vaccines for a region where vaccine access remains hugely disparate: on average, only 35 percent of people in Latin America and the Caribbean have been fully vaccinated against Covid-19. Countries on the lower end of inoculation rates include the Bahamas, Grenada, Guatemala, Haiti, Honduras, Jamaica, Nicaragua, St. Lucia, St. Vincent and the Grenadines, and Venezuela.
On the other end of the spectrum six of the 10 major countries in South America have given at least a first dose to 50% of the population. Chile, Ecuador and Uruguay have fully vaccinated a greater share of their populations than in the U.S. A strong vaccination culture has fed into high acceptance rates in countries where governments have been able to obtain coronavirus jabs, and Covid-19 cases and deaths have dropped dramatically in South America, apparently from rapid and thorough vaccines on the heels of a horrific wave earlier this year. Another factor protecting the continent could be the predominance of the gamma variant, reports Bloomberg.
The region is experiencing a post-recession boom of economic growth, but incumbent leaders and parties have not been able to leverage that improvement into ballot-box support. (Latin America Risk Report)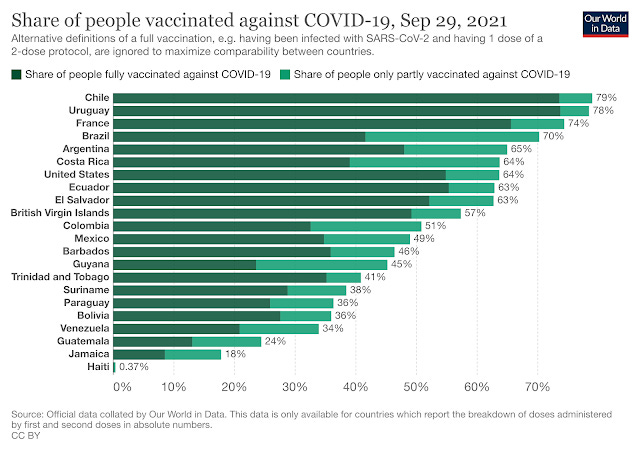 ​

----------------------------------------------------------------------
Ecuador's deadly prison riot
Ecuadorian President Guillermo Lasso declared a state of emergency, after 116 people were killed in a prison riot that started Tuesday. The move grants military personnel control of the Coastal Penitentiary, a crowded prison on the outskirts of Guayaquil, where the situation remained out of control last night. Graphic images posted on social media showed inmates from rival gangs Los Choneros and Los Lobos fighting with machetes, guns and grenades. At least six of the victims were beheaded.


One of the deadliest riots in the country's history, the violence stems from a turf war between local gangs operating for Mexican cartels vying for cocaine trafficking routes. A similar wave of violence broke out in two of the country's prisons, including the same Guayaquil penitentiary, two months ago.
(New York Times, Washington Post, Guardian, Associated Press)

News Briefs
Haiti
El Salvador
Central America
Mexico
Colombia

Did I miss something, get something wrong, or do you have a different take? Let me know ... Latin America Daily Briefing